Exotic Deer & Antelope Hunts
The deer hunting adventure at High Adventure Ranch begins with preserving high quality herd and trophy bloodlines in a most natural environment. Bound only by an endless thirteen mile perimeter, all of our deer are free to retain their natural instincts. Free to roam and reproduce uninterrupted, these deer live in an area divided only by small springs and ephemeral streams which form the bluegrass and wooded ridges of the mature Ozark foothills in Missouri.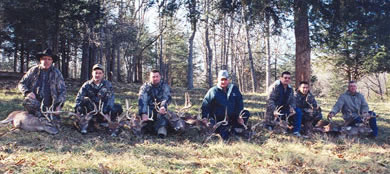 Of course, effective game management means keeping herd numbers at reasonable levels. This is where you, the trophy hunter comes in. Only the mature trophy deer, that we are dedicated to producing, will be harvested. Select hunting subsidizes our trophy preservation efforts and provides you with the most fascinating big game hunting available in the Midwest.

Be prepared for a fair chase. These deer are born and raised in a natural environment with virtually no human contact. For that reason, High Adventure Ranch is geared to the seasoned hunter…the kind of hunter who would allow his young son the first shot on a 10-point buck…the hunter who would pass up an inferior animal in easy range…the trophy hunter.

Most importantly, all of our hunts are backed by our No Game, No Pay policy and require a resident or non-resident license fee of only $5.
The Axis Deer is a beautiful deer featuring large barrel shaped antlers and exquisite coloration.
The unique palmate antlers of this exotic deer make it a prize for any trophy hunter.
This Japanese exotic deer features a unique rack and an odd sound.
With its beautiful black and white coat and elegant spiraling horns, the Blackbuck Antelope is one of the most desirable exotics on the ranch
Of course, we also offer:
Trophy Whitetails represent our most popular deer hunt and the ranch is loaded with a large number of 8 point bucks or better with scores ranging from 100 to 200.
The "Monarch of the Mountain," the Red Stag is the most beautiful antlered animal on the planet.

For more information on any of our deer hunts, please call (314) 578-4590 or fill out our contact form.