Buffalo "Bison" Hunts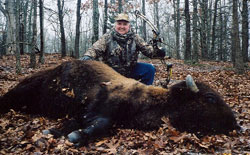 Imagine stalking an animal with the raw size and power of the American Bison. The idea of taking a trophy of this magnitude has been only a dream to most hunters until now. Our Buffalo hunting area is vast allowing you to stay back, as Buffalo are easily agitated and dangerous when approached closely.

Having a taste similar to beef but with a fraction of the fat, one of the best aspects of our Bison hunts is the meat that you'll take away. Bring a lot of coolers because you'll be taking home plenty of Bison steaks, roasts, and burgers with this hunt.

Bison also provide very attractive mounts and hides that can be used as rugs, bedspreads, or wall décor. We work with a local taxidermist, who will professionally mount the head and tan the hide at a very reasonable price. November thru March is the best time for their hides!
We have a full website dedicated to our Trophy Buffalo Hunts, check it out now.
For more information on our American Buffalo "Bison" Hunts, please call (314) 578-4590 or fill out our contact form.