High Adventure Ranch is a Proud Sponsor of the Wounded Warrior Project's Edmundson Hunting and Out
What is Wounded Warrior Project?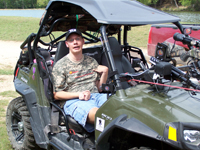 Wounded Warrior Project (WWP) is a nonprofit, nonpartisan organization headquartered in Jacksonville, FL with additional program offices located in New York City, San Antonio, Chicago, San Diego, and Washington D.C.

The WWP vision is to foster the most successful, well-adjusted generation of wounded warriors in this nation's history.
Read about Edmundson's Hunt at High Adventure Ranch
WWP Programs
As the Wounded Warrior Project carries out their mission of honoring and empowering wounded warriors, their innovative programs and outreach efforts continue to expand;


To raise awareness and enlist the public's aid for the needs of injured service members.
To help injured service members aid and assist each other.
To provide unique, direct programs and services to meet the needs of injured service members.
Edmundson Hunting and Outreach Excursion
The Warrior:
Eric Edmundson, a warrior wounded in a 2005 incident, is able to hunt with an adapted ATV equipped with a five-point harness, special weapon mount and siting screen. Hunting has been Eric's lifelong passion – and with your help, WWP is now assisting him in fulfilling his "grand slam" hunting list of large game animals. He will be accompanied on this excursion by his parents and caregivers, Ed and Beth Edmundson.

To read more about Eric, please visit http://www.ric.org/about/ric-patient-stories/traumatic-brain-injury-eric-edmundson-story - More internet articles about Eric Edmundson are available through a basic internet Google search.

The Hunts:
Session One of Eric's outreach and hunting excursion will begin in early August and end in mid-September 2011. This Trip will begin in Jacksonville, Florida, at the WWP Headquarters where they will pick up the camper and receive an official send-off, leaving for the first location: Hunt (1) which will be for Alligator and wild boar in Florida; then on to hunt (2) will be for Axis Buck in Texas; hunt (3) will be in Missouri at High Adventure Ranch for American Trophy Bison; hunt (4) will be an archery hunt in Colorado for Elk; and finally hunt (5) in Iowa for a Corsica ram harvest.

After stopping for a brief rest and break, the Edmundson's will resume the excursion for Session Two which will begin in early October and end in mid-November : hunt (6) will be in Montana for pronghorn antelope, Hunt (7) will be in Idaho for bear; and finally hunt (8) will be in Wyoming for a white tail deer harvest, which will conclude session two of this trip in mid-November 2011.

The Outreach:
Along the excursion route the Edmundson's will be stopping at four designated Outreach locations to speak and provide educational information to communities about Wounded Warrior Project and its many programs and outreach campaigns. Among others, this will include the Warrior Independence program and the Believe in heroes™ campaign which is intended to bring awareness and "Put The Veterans Back In Veterans Day" which will take place this fall – to include multiple signature events launching across the USA between 9/11/11 and 11/11/11.

To learn more about Wounded Warrior Project and its programs and services, please visit: www.woundedwarriorproject.org

High Adventure Ranch is very proud to be a part of this campaign.