High Adventure Ranch Newsletter - January 2014
Winter is the Best Time for Trophy Buffalo??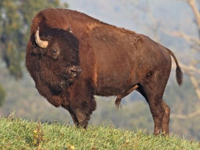 We get asked when is the "best" time to hunt Buffalo at the Ranch. It depends on what you are after. We hunt the Bulls all year and if you are doing a meat hunt only that is fine. However, if you after a Buffalo Rug, winter is the Best time.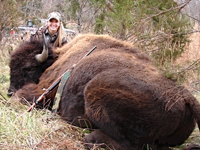 During the winter their hind quarter will be fully covered with hair as you can see in the photo to the left.
Our 3 day 2 night package for a 3 year old Bull Buffalo that includes you lodging, meals, guide fee, license and full meat processing is: $3,995.00.
We also have the European "Wisent" Bison for sale at High Adventure Ranch. Call us for more information on this special Trophy.
Call today: 1-877-858-3481 or CLICK HERE to view our Buffalo website.
At High Adventure Ranch we hunt Bull Elk through the end of February 2014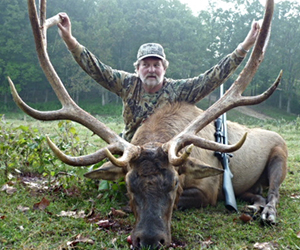 Have you gone Elk hunting out west and come home with only dreams of taking an Elk? At High Adventure Ranch we still have a good supply of Management Bulls and large 6x6 or better bulls scoring 365 to 390.
Our 3 day 2 night package includes your lodging and meals, guide fee, license and full meat processing. Best of all - all our packages come with a NO GAME - NO PAY POLICY.
Management Bulls: $3,345.00
6x6 Bulls scoring 365 to 390: $7,995.00
Call today: 1-877-858-3481 or CLICK HERE to visit our Elk website.
Pictures from last Fall at High Adventure Ranch
Many of you are now enjoying the meat from last Fall's hunt and sharing pictures with friends and family. They say a picture is worth a 1,000 words. With that being said, look at some of the Trophies taken this past Fall at High Adventure Ranch.
If you didn't get the Trophy that you have been dreaming of, give us a call!
Last Fall we sold out almost every day. So if you are looking to book a hunt for this Fall, now is the time! We require a small down payment which locks in any special pricing and holds the dates you are after.
Call us today: 1-877-858-3481!
Recipe for your wild "game."
Salisbury Buffalo Steak
2 lbs. ground Buffalo Meat (other game meat may be substituted)
3/4 c. Minute Oats
1 c. evaporated milk
1/4 c. chopped onions
Salt & pepper to taste
1 T. Worcestershire sauce
2 cans cream of mushroom soup
2 cans water
2 tsp. Kitchen Bouquet
1/4 tsp. Kitchen Bouquet
1/4 tsp. garlic powder
Combine Buffalo meat, Minute Oats, evaporated milk, chopped onions, salt and pepper and Worcestershire sauce; mix well. Shape into oblong patties. In skillet with hot oil, brown patties. Drain. Place in baking dish. Combine mushroom soup, water, Kitchen Bouquet and garlic powder. Pour over patties. Bake at 300° for 1 hour. Serve with rice or mashed potatoes.
Customer Comments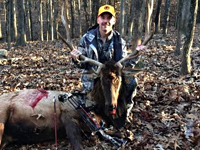 Greg Golden was our $500 Gift Certificate winner for booking his hunt last May. He wrote:
December 2013 - "Hey Andy, Just wanted to touch base to tell you what an awesome time my family and I had during our recent hunt at High Adventure Ranch. I was able to harvest my first archery 6x6 bull elk and my two daughters each harvested a nice sized Russian Sow. My father also harvested a nice Russian Sow as well. Needless to say, our freezers are full at the Golden household!! Travis, our guide, was very helpful and personable during our hunt. Please tell him we think he did a great job!" Take care! We look forward to coming back next year!"
G. Golden - North Carolina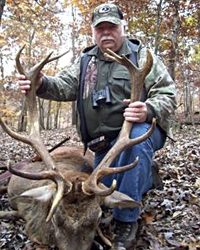 November 2013 - To Monty and the High Adventure Ranch
Just wanted to say thank you for a very successful Red Stag hunt. It was my first guided hunt and wasn't sure what to expect. I was truly impressed thanks to the professionalism and persistence of my guide Dave. He made sure that I found the best Stag that I was able to get and once located, he went above what anyone could expect to stay with him and make sure that I had that perfect shot. A true pro at his work.
But the professionalism didn't stop there. Once we got back to camp. everyone chipped in and got it capped and meat cut and in the cooler. Nothing had to be said, they just all helped each other...a true professional team! A special thanks to Doretta and the girls in the kitchen. Some excellent meals and it allowed us to try different types of game. I'll say it again Doretta, you need to put out a cook book. Another thing that I also enjoyed is the friendship I made with other hunters. We were all there for the same reason and the encouragement and support we gave each other made it more fun. We ribbed each other on a miss but it was all in fun because we've all been there. I for one am looking forward to my next visit.
Laird "Chief: Moulds" - Maryland
To view more of our Customer Comments & Testimonials, click here