High Adventure Ranch Newsletter - February 2014
Many of you are sitting around the fireplace trying to stay warm this Winter. The below pictures are hunters who came to High Adventure Ranch with something different in mind. They were after a trophy that they have always dreamed of.
If you have not already booked your hunt for next Fall or Winter, now is the time to do so. Booking now holds the current pricing and locks in your dates.
Currently we are 30% booked for next Fall so we still have plenty of dates available. A small deposit insures that you will be smiling in the field vs sitting in front of a fire.
Bull Elk

Record Book
Fallow Deer

Pure Mouflon

Whitetail Deer
Best of all for the past 31 years, High Adventure Ranch has had a No Game No Pay Policy so you will go home with the trophy that you came for. For more information on this Guarantee click here.
Call us today for your next hunt! 1-877-858-3481 or CLICK HERE to view our website.
This year's snow and cold weather has made it a prime year to hunt Buffalo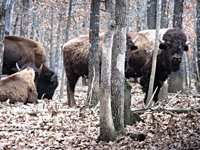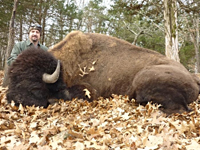 February and March are excellent months to do a Buffalo hunt. At High Adventure Ranch we have an excellent herd of buffalo to choose from so if you are after a meat hunt or one to put on the wall, we can accommodate your needs.
Our 3 day 2 night package for a 3 year old Bull Buffalo includes your lodging and meals, guide fee, license and full meat processing is just $3,995.00. Best of all - all our packages come with a NO GAME - NO PAY POLICY.
Call us today for your next hunt! 1-877-858-3481 or CLICK HERE to visit our Buffalo website.
Fall Youth Special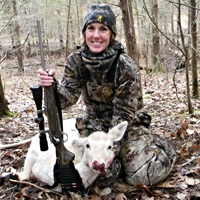 Each year it seems that we see fewer young hunters involved in the sport of hunting.
Our Fall Youth Special (age 16 and under) is for your son, daughter, grandchildren or the boy or girl down the street. If you book any hunt priced $3,000 and up for any dates from September through December 2014 you can bring a youth with you for a Fallow Doe hunt for just $395. (Regularly $795)
This special includes their lodging, meals, guide fee and full processing of their Fallow Doe. Best of all, once they taste their venison they will be hooked on the sport of hunting. Call us today!!!! 1-877-858-3481
Recipe for your wild "game."
Buffalo Roast with Sour Cream Gravy
3 lbs. Buffalo Roast
3 T. Olive oil
2 cups sour cream
2 tsp. dill seed
1 pkg. onion soup mix
1 tsp. salt
1/2 T. black pepper
2 cups water or red wine
2 T. flour
Potatoes, onions and carrots
Brown roast on all sides in olive oil. Add dill seed, salt, pepper, onion soup and water or wine. Cook in crock pot for approximately 6 hours. When the meat is fork-tender, remove from the pot. Reduce pan drippings (or add water if necessary) to make 1 1/2 cups liquid. Mix flour with 1/4 cup cold water. Gradually add warm pan drippings, stirring constantly, until you reach 1 cup. Pour into pot, stirring constantly till mixture thickens. Add sour cream. Serve roast with sour cream gravy.
Customer Comments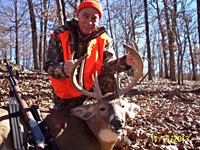 November 2013 - "I just returned home from my Whitetail hunt. This was my first visit to High Adventure Ranch and I really did not know what to expect. I have always wanted a nice big trophy Whitetail for years and I finally had a chance to get one. I was very pleased and I had a great hunt. David was a wonderful guide and I am absolutely thrilled with the results. I am going to try and come back next year to get an Elk with my bow."
L. Strunk - Missouri
To view more of our Customer Comments & Testimonials, click here