High Adventure Ranch Newsletter - March 2013
Book now for your Fall Elk Hunt!
Last year the demand for our Elk hunts was so great we had to turn hunters away. In the past thirty years, this was a first. Currently we are 40% booked for our 2013 Elk Hunts.
Just announced - book a Cow Elk, Spike Elk or Management Bull Elk by April 30th and SAVE $200.00.
| | |
| --- | --- |
| Cow Elk Package: | |
| Was $2,495 | Now $2,295 |
| Spike Elk Package: | |
| Was $2,995 | Now $2,795 |
| Management Bull: | |
| Was $3,595 | Now $3,395 |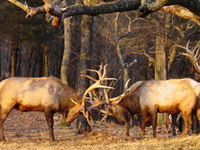 These 3 day 2 night packages include your lodging, meals, guide fee, license and full processing of the meat.
So if you are looking for one of these, CALL US TODAY!
To request more information on our Rocky Mountain Elk Hunts, CLICK HERE!
Spring Special Save $50 or More

We decided to carry our Spring Special over for another month. If you're looking to do a Wild Boar or Ram hunt and can hunt midweek (Sunday to Thursday), you can save a few dollars. Just book a hunt for 2 or more hunters before 3/31/13 and we will discount your package by $25 per hunter. This Savings will be on any Wild Boar or Ram package booked by the end of the month and hunted through July 2013.

For more information on our Boar hunts, CLICK HERE!

The Spring Special makes an excellent family get away. If you and your family enjoy fishing, you never know what you might catch.
The Winners are:
In our September 2012 Newsletter we gave away Vortex "Diamondback" Binocular to one lucky client who booked a hunt in September.

The winner was Mike Durante from New York. He brought his son Mikey to High Adventure Ranch for an Elk hunt prior to his son going into the Army. Mikey took this beautiful 7x7 Elk at the end of December which made his day.

Mikey's 7x7 Bull Elk

In our January - February Newsletter we offered a Free Axis Doe hunt to many hunters who signed up.

We had over 3,000 entries. We are happy to announce that Randy Mace from Missouri was our lucky winner. We will share pictures of his hunt in a future Newsletter.

Did you know that you can hunt Axis bucks year around? They will grow their antlers based on their birth date which can be any month of the year. So we have animals like this available right now!

For More Information on our Axis Deer Hunts, CLICK HERE!
Buffalo Hunts
High Adventure Ranch has one of the largest herds of Buffalo East of the Rocky Mountains. If you are looking for a beautiful Bull Buffalo like this, we have them.
We hunt the Buffalo year around since many hunters are looking for the meat. Our 3 Day 2 Night Buffalo Packages start at just $2,395.00 for a yearling.
Our Trophy Buffalo Package for a Buffalo up to 1,400 pounds is $4,695.
For more information on all our Buffalo Packages, CLICK HERE!
Customer Comments
January 2013 - "I just wanted to thank you and let you know my girlfriend Lisa and I had a great time on the Red Hind hunt two weekends ago. We enjoyed the overnight, the food was good, the staff was very friendly and hospitable and the hunt was a lot of fun. Our Guide was Jeremy and he is a really nice and helpful young man.
I have had friends over twice already for backstrap filets. The meat tastes awesome." M. Johnson – Missouri
To view more Customer Comments, CLICK HERE!