High Adventure Ranch Newsletter - April 2013
Looking to Get Out this Spring or Summer?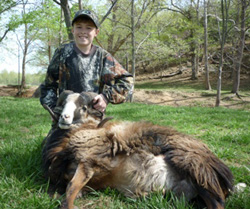 5/8 Mouflon Ram
Spring and Summer at High Adventure Ranch offers sportsmen & sportsgals opportunities to hunt for many different Exotic Species. Or you may want to bring your son or daughter on their first hunt for a beautiful Trophy Ram like this.
Maybe you were thinking of a
Blackbuck Antelope for yourself.

Or you might look at something more
Exotic like a Jacob Four Horn Ram

Blackbuck Antelope
Jacob 4 horn
Samantha's Elk Hunt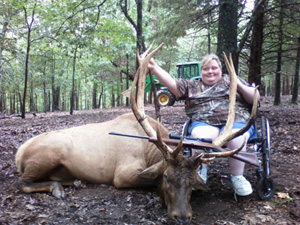 August 31, 2012 will be a day I will remember for the rest of my life. For a Christmas present, my parents surprised me with an elk hunt. It brought me to tears because I have always wanted to kill an elk. At first, they told me that it was an elk hunt, and then they told me it was going to be a TROPHY BULL ELK HUNT! Then I was speechless. My mom then told me that both sets of grandparents were going too and that brought me even more to tears. Both of my grandpas have been elk hunting, but had no success. My dad went to Colorado and killed a 5x5 Bull Elk in Sept 2011.
Upon the arrival at High Adventure Ranch, we immediately met with my guide, Jeremy and he told everyone that he would see us in an hour and a half.
Jeremy came and got me, my parents and my two grandpas. Jeremy took us around and showed us a couple elk he had been keeping an eye on for me. We located a 7x7 that was easy access for me considering that I was in a wheelchair. Jeremy helped me get positioned to where I could shoot the elk. He talked me through the best place to shoot the elk, I took a deep breath and found the spot in my scope that Jeremy was talking about and I pulled the trigger, confident that I made the perfect shot; it went down in its tracks. Between me, my parents, and my two grandpas, I don't know who was more excited. Many tears were shed that day and I realized how lucky I to have harvested a Trophy Bull Elk with my parents and my grandpas there by my side.
That day I also realized that I am so lucky to have both sets of grandparents living because most kids my age don't. When my grandparents are gone, I will have that memory of that day and how much it meant to me to have them there. To my parents, I want to thank them for giving me every opportunity to do what I love to do, and that is to hunt.
To everyone at High Adventure Ranch, thank you for not only giving me the opportunity to hunt, but giving other people who may have a disability or just want to hunt the chance to fulfill their dreams. I know you fulfilled my dreams.
Samantha – Illinois
Save now on your Fall Elk Hunt!
Last year the demand for our Elk hunts was so great we had to turn hunters away. In the past thirty years, this was a first. Currently we are 40% booked for our 2013 Elk Hunts.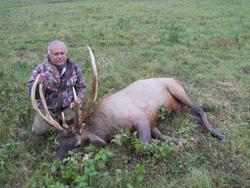 Management Bull Elk
Just announced - book a Cow Elk, Spike Elk or Management Bull Elk by April 30th and SAVE $200.00.
Cow Elk Package: Was $2,495 NOW $2,295
Spike Elk Package: Was $2,995 NOW $2,795
Management Bull: Was $3,595 NOW $3,395
These 3 day 2 night packages include your lodging, meals, guide fee, license and full processing of the meat.
So if you are looking for one of these, contact us today at 1-877-858-3481 or CLICK HERE!
If you are looking to book for the once in a lifetime Bull Elk - we have them! But supply is limited. Book now for a Trophy Bull Elk like these.
| | | |
| --- | --- | --- |
| | | |
| 7x7 Bull Elk to 340 | 6x6 Bull Elk scoring 400 | 7x9 Bull Elk scoring 440 |
For More Information on our Elk Hunts, CLICK HERE!
Like Us on Facebook
Facebook is a great place to see the latest pictures and comments of hunters that have hunted at our ranch. Whether you have hunted with us or not, come join our Facebook page along with many other hunters!