High Adventure Ranch Newsletter - May 2013
Book your Fall Hunt NOW!



Booking your Fall hunt now locks in your dates and package price. Last year we had to turn hunters away due to demand for Trophy Elk like this.
The Whitetail herds were greatly reduced last year due to the drought in the Midwest. If you are looking for a wall hanger like this, we can make your dreams come true.
Or if you are looking to take a Trophy Bull Buffalo,
High Adventure Ranch has one of the largest herds East of the Rocky Mountains.

At High Adventure Ranch you can use your weapon of choice any time during our season.
For more information on all of our Fall Hunts, CLICK HERE or call us today at 1-877-858-3481!
Trophy Russian Boar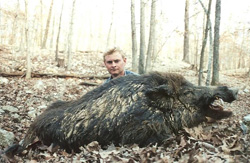 RB Russian Boar 375#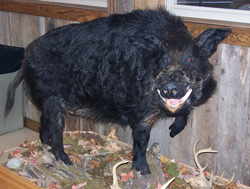 High Adventure Ranch is one of only a few ranches in the States with "Pure Russian Boars". In the past we only harvested the Record Book Russian Boar that weighed in from 300 to 500+ Pounds.
Currently, we have a limited number of Trophy Russian Boar weighing in between 150 to 250 pounds that we want harvested NOW!
These magnificent animals all have massive heads with razor sharp tusks.
They also have a thick plate that covers their vitals. You will need to bring
plenty of fire power to drop one of these dangerous Trophies.
The Trophy Russian Boar make a wonderful shoulder mount and is a must for your Trophy Room.
We are offering a limited number of Trophy Russian Boar (up to 250 pounds) for just $1,295.00. This is a limited time offer - Call now!
This 3 day 2 night package includes your lodging, meals, guide fee, license and full meat processing.
For more information on our Wild Boar Hunts, CLICK HERE to go to our
site that is fully dedicated to our Boar hunts!
Customer Comments
April 2013 - "Hey, we had another great hunt at High Adventure Ranch. I shot a real nice Texas Dall Ram. Toby missed a nice Russian Boar. That Happens sometimes.

All the folks at the Ranch were great. Dave did a great job guiding for us. I sent Monty a thank you note." A. Ambrosi - Winchester Ammunition

April 2013 - "Had a great time at the Ranch! We had 3 ram hunts in our group and 4 hog hunts. All successful !!!

My guide was David and I'd recommend him to anyone. Thanks again to all at the Ranch. I'm sure we will be back." E. Mercer - Iowa
Like Us on Facebook
Facebook is a great place to see the latest pictures and comments of hunters that have hunted at our ranch.

Whether you have hunted with us or not, come join our Facebook page along with many other hunters!