High Adventure Ranch Newsletter - June 2013
Summer Updates & Newsletter Winner!
In our January & February Newsletter we offered a Free Axis Doe Hunt to all that entered. Randy Mace from Missouri was the lucky winner of the hunt package.
Randy was able to take this nice Axis Doe in April. He stated "It was tough to get a shot on the Doe, but Jeremy (my guide) kept at it. He was a great guide and Doretta was an unbelievable cook. I hope to take my 14 year old back to hunt a hog. It was a great experience."
CLICK HERE to View Our June Specials!
Summer at High Adventure Ranch
Every year we shut down from mid-June to mid-July to get some ranch work completed. During our quiet time, there is still much going on. Thought you might enjoy seeing what Summer looks like at the Ranch.
Our Whitetails are in velvet and the little ones are hid in the high grass.
CLICK HERE to view our Whitetail website.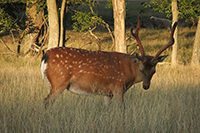 The Bull Elk are by themselves while the Cow Elk take care of their newborn.
CLICK HERE to view our Elk website.
You can find a nice Axis Buck like this any time of the year since they grow their antlers based on their birth date. They can be born any month during the year.
CLICK HERE to view our Exotic page.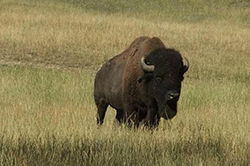 The Big Buffalo have a tendency to be loners while the Cows and yearlings remain in herds
CLICK HERE to view our Buffalo website.



Red Stag Packages
The Red Deer are indigenous to Europe, parts of Asia and Northwestern Africa. They have been introduced in Australia, New Zealand and Argentina were many trophy hunters travel to take one of the magnificent trophies.
Why spend thousands in air fare when you can hunt these at High Adventure Ranch in Missouri?
The Red Stag will be hard horned in the later half of August.
If you book a hunt for this time period, we will take 15% off the cost of the animal.
Our 3 day 2 night packages start at $4,045 for a Silver level Stag up to a 260 score.
Hunt during the second half of August and this package is only $3,520. Save $525!!!
For more information on our Red Stag hunts CLICK HERE.
Customer Comments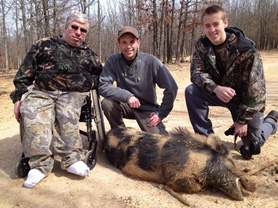 May 2013 – "We had a very good time at High Adventure Ranch. The ranch is spectacular with more wildlife than we expected. The meals were terrific and our guide, Travis did a nice job.
The Lodge was fine and the wheel chair ramp and shower worked out fine for Don. There is a good chance Don will return again for another hunt. He had a great time." S. Nooyen - Wisconsin
To view more of our Customer Comments and Testimonials
CLICK HERE.
Like Us on Facebook
Facebook is a great place to see the latest pictures and comments of hunters that have hunted at our ranch. Whether you have hunted with us or not, come join our Facebook page along with many other hunters!