High Adventure Ranch Newsletter - July 2013
Elk Season Starts September 1st.
High Adventure Ranch has had a No Game No Pay policy for the past 30 years. Over the years we have been able to make all our hunters dreams come true. Whether you are coming in for a Cow Elk or a Trophy Bull Elk, you will be able to fill your tag.
Now is the time to book your next Elk hunt and you will be smiling like these hunters of High Adventure Ranch.
The odd 's of being drawn for an Elk license in one of the Western States is like winning the lottery. And if you are lucky enough to be drawn, will you get a Trophy Bull Elk? It is a fact that your chance of harvesting a Trophy Bull Elk is around 4% out west.
Call us today to book your Elk hunt and we will make you smile too. Our 3 day 2 night Trophy Bull Elk packages start at $4,695 for a 5x5 and include your lodging, meals, guide fee, license and full processing of the meat.
CLICK HERE to view our Elk website
Our $500.00 May Booking Winner is Greg Golden
In May we ran a Booking Special for a $500 Gift Certificate for one client booking a hunt in May 2013. We had 34 clients book a hunt in May making them eligible for the $500 Gift Certificate. Greg Golden was the lucky winner. He is coming with his daughters for a 6x6 Bull Elk and Russian Sows in November 2013.
Greg said .....WOW! My daughters and I are excited about our hunt in the Fall. Thank you very much!
Whitetail Deer
Every year hunters coming to High Adventure Ranch find Whitetail Deer scoring 150", 200", 250", 300" and up. When is the last time you had a 200" or larger Whitetail in front of you during hunting season? If you are like most of us, the answer is never.
Why spend years looking for that perfect mount for your fireplace? Life is short and High Adventure Ranch has the Whitetail that you are looking for.
For more information on our Whitetail Deer hunts, CLICK HERE
August Red Stag Special
If you book a Red Stag hunt now for a hunt in August 2013, we will take 15% off the cost of the animal.
Our 3 day 2 night packages start at $3,935 for a Silver level Stag up to a 260 score.
Hunt during the second half of August when the Stag will be hard horned and this package is only $3,425.
This is a savings of $510!
And you will save even more $$$$ on our larger Red Stag packages by hunting in August.
Call now for more information: 1-877-858-3481. For more informationon our Red Stag hunts.
Buffalo Chili
Over the years we have received numerous complements from our hunters about Doretta's (Our Ranch Cook) recipes. They have also asked for the recipes so they can try it at home. One of the most asked for recipes is her Buffalo Chili. It is:
4 lbs. Buffalo Burger
1 lb. Wild Boar Sausage
1 Medium onion chopped
2 tbsp. salt
1/4 cup mild chili powder
Brown burger & sausage, onion, salt, pepper and chili powder until well done. Drain excess liquid.
Add : 1 Gallon mild chili beans
2 15 oz cans tomato sauce
2 15 oz can diced tomatoes
Cover and simmer for two hours.
Customer Comments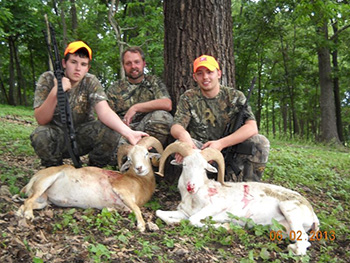 June 2013 - My two sons and I just returned this week from a 3 day stay at the ranch. I originally purchased 3 Ram packages, but upgraded to the Texas Dall packages. Being in the service industry also I feel it's important to receive feedback from the client, both good and bad.
Justin, our guide was great. He was patient and polite and took his time figuring out our personalities to help us feel at ease while we were there. We had never experienced a "high fence" hunt before and weren't really sure what to expect, but he quickly filled us in and allowed us to be as selective as we wanted.
I don't remember the cooks name and I feel bad about that. She was one of the friendliest ladies I've ever met. She laughed, talked, and cooked like my mom and grandma did. We couldn't have been more pleased with her.
Now for the bad. I don't have any. I wish I had some constructive criticism to offer you, but I don't. Everyone there was great which made for a memorable trip.
C. Pursley - Iowa
To view more of our Customer Comments and Testimonials, CLICK HERE
Facebook is a great place to see the latest pictures and comments of hunters that have hunted at our ranch.
Whether you have hunted with us or not, come join our Facebook page along with many other hunters!
It's simple, just click on this link below and "LIKE" our page.