High Adventure Ranch Newsletter - August 2013
Book Now and Save 10% on Fall Hunts
Buffalo Hunts
High Adventure has one of the largest herds of Buffalo east of the Rocky Mountains. We have fine selections of meat animals as well as many Trophy and Record Book Bulls weighing in up to 2,000 pounds.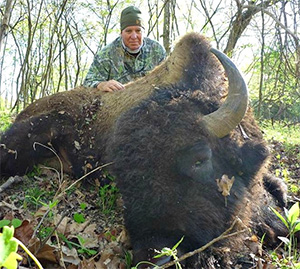 And as you can see the herd is growing. We have many new calves born every year at the Ranch.
Buffalo meat is excellent and very nourishing for you. We have had many clients comment that High Adventure Ranch is one of the few Ranches that give the hunter all their Buffalo meat. We can accommodate the meat hunters as well as the Trophy hunter.
Our 3 day 2 night package for the 3 year old Bull Buffalo was $4,138. Now with 10% off the cost of the animal it is just $3,795. The package includes your lodging, meals, guide fee and license. This would be an animal weighing between 750# to 900# and is the best meat package. Book this package with a $1,400 deposit by August 31 and we will include FREE full processing of the meat!
To view our Buffalo website, CLICK HERE


---
Whitetail Deer Hunts
We start hunting the Whitetail Deer mid September each year at High Adventure Ranch. The Whitetail will be hard horned at this time and the season runs until they drop their antlers, usually mid January each year.
Hunting Whitetail this time of the year add to the challenge of the hunt. The foliage will be thick and the deer will be hard to spot. Your guide will ensure that you find that special deer that you are looking for.
Our 3 day 2 night package for a 140 class deer is just $2,995. We know that many hunters just don't believe in hunting until the snow is blowing. December or early January is when you should book your hunt.
Whether you like early season hunting or late season, you can use your weapon of choice. Call us today to book your Whitetail hunt and we will make you smile too. We still have many Whitetail scoring 200" and larger.
CLICK HERE to view our Whitetail website


---
Exotic Hunt Packages
At High Adventure Ranch we have a fine selection of exotic animals to choose from. Many of our clients say that the Axis Deer is the most attractive of all wild deer.
Axis Bucks can be hard horned anytime during the year as you can see from this picture taken in June. Our 3 day 2 night package for an Axis Deer up to 26" is just $2,895.
You can also hunt our Rams and Goats year round at the Ranch. So if you are tired of waiting for deer season to start in your State, call us now. We have many different Rams to choose from with packages starting at just $775.
---
Broiled Elk Steak Marinated in Brandy
4 to 5 lbs. Elk steak, 2" thick
3/4 cup cognac or any decent brandy
3 tbl. butter, meltedSalt and freshly ground pepper
Marinate the steak in the brandy for about 45 minutes, turning it a couple of times. Drain and pat steak with a paper towel (save the marinate). Salt and pepper the steaks and then broil steak in oven, basting a few times with melted butter. Serve steak on a garnished hot platter after you have warmed the reserved marinate in a saucepan.
Just before you bring in the platter, light the warmed brandy and pour just enough of it onto the steak to make the blue flames dance. This will make you feel better about using an expensive Brandy for the marinate.
Enjoy!


---
Customer Comments
June 2013 - Our guide (Travis) was perfect. Camp was clean. Tons of animals. Processing was spot on. Loved the meals. Other hunters were friendly company. Was encouraged to go on camera hunt the second afternoon
By the way, I am a journeyman meat cutter with 12 years experience and I was very pleased as to how the meat was processed.
Everything was perfect, we are coming back for sure.
S. Welling - Iowa
(Note: Many of the live pictures featured in this newsletter were taken by Steve during his camera hunt while at the Ranch. Thanks)
---
Facebook is a great place to see the latest pictures and comments of hunters that have hunted at our ranch.
Whether you have hunted with us or not, come join our Facebook page along with many other hunters!
It's simple, just click on this link below and "LIKE" our page.