High Adventure Ranch - October 2013
Winter is soon here
When the temperature drops and the snow flies it is the best time to hunt the American Bison. Especially if you are looking for a Bison Rug for your Trophy Room.
Click here to view our Bison website
Did you know that at High Adventure Ranch we hunt the Bull Elk from September through February each year? So if you were unsuccessful in getting your license or never got a shot at one out West, we still have one waiting for you.
Click here to visit Elk website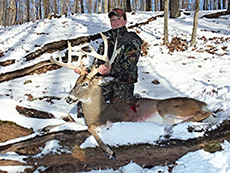 Would your son / daughter like to take a nice Whitetail like this for his/her Christmas present? Just ask them!
If you would like more information on any of our Hunt Packages please call us at:
1-877-858-3481 or Or Click Here to view our main Website
Whitetail Hunts are in full swing

The leaves are falling, bringing on the best time of the year for all hunters going after the elusive Whitetail. They go into rut in mid November and at High Adventure Ranch we are ready to find you a Trophy of a lifetime.

We hunt the Whitetail through early January each year at the Ranch. Best of all we still have a few openings available. Bring your spouse or kids for a get-a-way that will last a lifetime. Stay in one of our cabins overlooking the Lake.

Our 3 day 2 night Whitetail Packages start at $1,495.00 for an 8 point buck up to 119 score

Isn't it about time you get your son, daughter or grandchildren out hunting?

Call Us today 1-877-858-3481
Recipe Section
This Newsletter goes to thousands of hunters, many who have hunted at High Adventure Ranch. We are sure many of you have your favorite wild game recipes. It might be for Deer, Elk, Buffalo or maybe Boar.
If you would like to share your favorite wild game recipe with your fellow hunters, please send them to: bpuff@HighAdventureRanch.com
If we use your recipe in our Newsletter or online, we will send you a High Adventure Ranch hat.
Customer Comments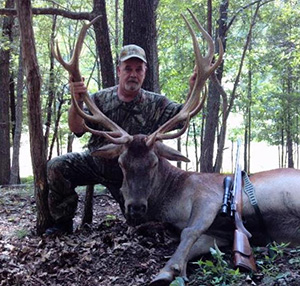 August 2013 - "I just returned home from a weekend at the Ranch and had to let you know how it went. What an adventure! I saw my first Red Stag in New Zealand while on military leave in 1977 and when I heard about the Stag hunts at High Adventure Ranch I knew it was something I had to experience. I called, set up a hunt and asked my daughter if she would like to come along. When we arrived, my guide David, soon had us on the hunt. With his knowledge and experience it wasn't long before he had me set up for the shot of a lifetime. The Stag I took far exceeded my expectations and it will be a memory that will last forever.
We really enjoyed our stay and the home cooked meals. A big thanks to Monty, David, Doretta and the rest of the staff for making it all happen and I hope to bring my son on the next trip."
T. Griffiths - Illinois
To view more of our Customer Comments & Testimonials, click here
Facebook is a great place to see the latest pictures and comments of hunters that have hunted at our ranch.
Whether you have hunted with us or not, come join our Facebook page along with many other hunters!
It's simple, just click on this link below and "LIKE" our page.