High Adventure Ranch Newsletter - November 2012
A Birthday Hunt
Every year we see more and more women hunting at High Adventure Ranch. Erica's birthday present was a beautiful Trophy Buffalo. She told us that this was her first hunt. The Buffalo was taken with a M76 Sporter at 100 yards. She spent hours getting ready for the hunt, camo pants and of course the safety orange. You might have to look close, but Erica to the best of our knowledge; is our first hunter with finger nails painted "safety orange". Nothing wrong with trying to be fashionable while hunting.
Erica's husband Scott, not to be out done went after a Russian Boar. Together they spent hours finding the perfect boar which he took with a 25-06 at around 80 yards.
Erica said "We are definitely planning on coming back next year, it was the best vacation we have ever been on! The accommodations were great and the staff was incredible. We really are thankful to Jeremy for being such a good guide and will recommend him to anyone. Scott is interested in a Red Stag hunt. I haven't decided on what I would like to hunt yet, but I thoroughly enjoyed the Buffalo hunt. Can't wait to get our mounts back from the taxidermist".
Make your next birthday special!
For more information on all our Buffalo Hunts, CLICK HERE!
For more information on all our Boar Hunts, CLICK HERE!
Contact us to book at 1-877-858-348 or click here.
No venison in your freezer?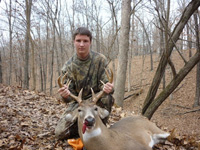 We hunt the Whitetail Deer through January at High Adventure Ranch. So if your freezer is empty, call us, we still have a few open dates still available in December and January when you or your group can come in.
Our Whitetail Buck package for an eight point up to 119 SCI score is just $1,495.00.
For more information on our Whitetail Hunts, CLICK HERE!

Ram Hunts from $760.00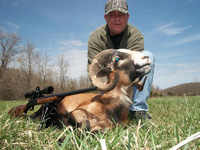 At High Adventure Ranch we have Ram Packages that start at $760.00 for either a Barbarossa, Corsican or 5/8 Mouflon Ram with a curl to the bottom of the eye.
This is for a 3 day 2 night package that includes your lodging, meals, guide fee for a day and license. If you book this package by November 30, 2012 we will also process your meat for FREE!
For more information on our Ram Hunts, CLICK HERE!
Doe Special
During the months of Sept. through Dec. you can add a Fallow Doe to your hunt package for just ... $350.00… and if you want the Doe fully processed add $95 to this special.
(Note: This special is now expired and is no longer available.)
Hunter Comments
August 2012 - "Mr. Puff - I've hunted out West in Wyoming and in Texas. Now at your Ranch in the Ozark Mountains of Missouri. You sir have a group of employees that I enjoyed being around and hunting with - Kudos to all!
L. Howerton – Tennessee
September 2012 - "Tony and I enjoyed our time at your Ranch last week. The guide that we had, Oliver did an excellent job locating a prime Spike Elk for each of us. He could have told us to shoot the first Spike that we saw, but he took the time to locate the best two for us and that was appreciated by both of us.

The complete hunt was first class from the dining to the sleeping quarters and last but not least the handling of our Elk. The boys did an excellent job processing the meat." D. Taylor – Pennsylvania
Like Us on Facebook
Facebook is a great place to see pictures and comments of hunters that have hunted at our ranch.
Even if you have not hunted at High Adventure Ranch, come join our page along with many other hunters! Help us reach 2,000 fans by the end of the year!